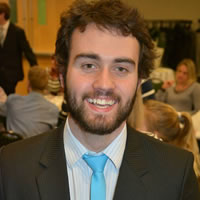 Tom Coates
Swimming
University of Eastern Michigan
Graduated 2014
Major - Pre-Medical Studies
Q & A – Thomas Coates
University of Eastern Michigan
2000 – 2014
Q. What made you decide to compete and study at a US college?
A. "I was interested in continuing my swimming while I studied, and I didn't see that as a viable option if I stayed in Australia"
Q. How did you commence the process and how long did it take?
A. "My family and I spoke to Noel over dinner we discussed the pros and cons of going to the USA and decided it was a good decision"
Q. How did it compare to competing in your sport in Australia?
A. "Swimming in America is quite different. Swimming for a team is a great experience and having their support it helpful through the year. Conference championships are always extremely energetic and the focus is on development over 4 years and tapering for a few meets"
Q. What qualities do you feel a student athlete needs to possess to be successful at a US university?
A. "Perseverance and commitment. Once you're in the USA you're committed to 4 years of study and swimming, if you're uncertain you want to continue swimming and studying that long it can be a tough 4 years"
Q. How did you balance your athletic and academic interests during your scholarship?
A. "The key is to plan your time. If you plan your weeks and keep to those plans it's not too tough to get to the weekend with a fair bit of spare time"
Q. What are the key challenges you encountered during your scholarship?
A. "The hardest thing is learning how to live independently and adjust to the college lifestyle. Once you get past the first few months the flexibility and lack of restraints are amazing"
Q. What were some of your most memorable moments during your experience?
A. "Winning our conference championship the second and third year was amazing! On top of this traveling to Florida each new years for swim camp was a great experience and the research I did during my studies was an opportunity I won't ever forget"
Q. Would you recommend other students consider a US scholarship experience?
A. "Of course. So long as you feel you can commit to 4 years of hard work and you're comfortable moving out, then I think college life is a phenomenal experience"
Q. How did you benefit from studying and competing in the US college system?
A. "I feel the benefits from this experience were endless. Apart from the becoming more dependent and gaining some great life experiences, employers love people who've had this sort of exposure. It took me a month to land an amazing job after I returned home and about 2/3 of my interview time was spent discussing my time in the USA"