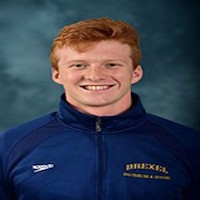 Ted Taylor
Swimming
Drexel University, Philadelphia
Graduated 2016
Major - Geoscience
"We are delighted to provide a testimonial for Nick Terzis and AAS, especially if you are from New Zealand.
We first became interested in exploring US schooling options when Lauren Boyle did so well in the 2012 Olympics after she trained and studied at Berkeley. Another successful AAS kiwi family put us in touch with Nick and we began the process in late 2012, in our son Ted's year 12 at school. It is worth starting early if you can as there is a lot to do, but throughout this process we have felt like we have been in expert hands as AAS have guided us through the various hurdles to swim/study in the US.
Our son is now heading to Drexel University in Philadelphia in September 2014. I am pretty sure we would not have got there on our own without AAS. Their network into the US swimming community has an amazingly broad reach and we had interest from a wide range of coaches from right across the US which was very exciting. But AAS's service is far more than just connecting you with a coach and swim-team. They have detailed knowledge of what is needed in the way of suitable responses to university requirements, productive ways to approach on-line interviews and calls for information at various times. They have always been extremely prompt to respond if we had questions and also kept us on target when we weren't as pro-active as we should have been.
We know that it won't end when Ted starts his Geoscience programme at Drexel, as Nick and AAS have a keen interest in following their "alumni". So we highly recommend Nick and AAS to you, for us it has been very much worth the commitment."
Sally Davenport